Why thank you! I wasn't sure anyone noticed!
One of the other only golden badges that seems feasibly achievable is "Great Reply", 50 likes on a reply
Although most have less than ten, it might be hard to get 50 likes.
edit: I forgot to say EVERYONE LIKE THIS so that we can see how long it takes to get 50
ok this failed lol
even is everyone liked it (which is hard on its own) , then it might get to 5 at most. Even popstarfreas only gotten 20% of the badge.
Eventually more and more people will be getting the 10 likes topics and maybe replies. Some people have 8 or 9 likes on their posts or replies, and there are topics where the first 10 or so replies have like 7+ likes
I think my highest post is on Comment Frenzy with 7.
This might be difficult, seeing as only Rofle has ever achieved any of these: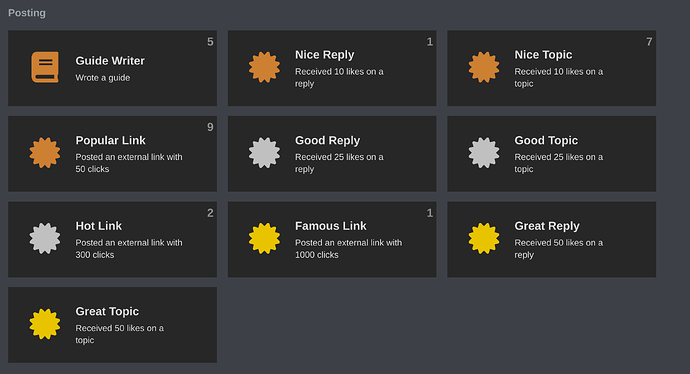 A few people have Popular Link, and Haruno has Hot Link, but nobody has ever achived any of the other Reply or Topics. I might be able to get Nice Reply though.
I now have every like-related badge except Admired, which would definitely be difficult to get (I estimate I have only around 50 posts that have more than 5 likes)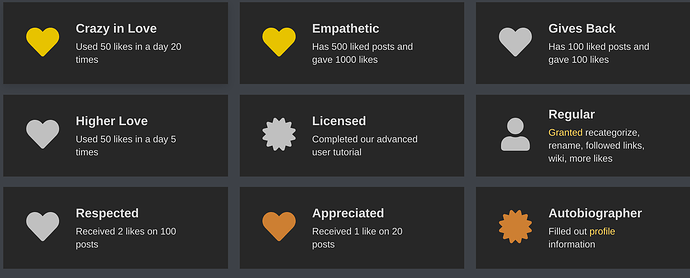 Well my server art has 13 likes already…

I know this is long-past, but this worked only when linking a post to another site entirely and not just another topic/post.
That makes you the 2nd person with most badges! (29)
(1st place is yems with 34, and 2nd,3rd and 4rd originally was you and Fadadadada and Popstarfreas with 28)
i have 25, but im gonna get more (i cant find good ways to get more for reasons each, rip man.)
The record list thing for Gold Badges -
Yems - 4
Solysis - 2
Madeira - 2
Madofado - 2
Popstarfreas - 2
Truthful - 1
~Nextar~ - 1
berd man (either god of everything or not god of everything, its unclear) -
Papyrus - 1
Glasia - 1
Netherow - 1
The rest of the mods who didnt get any other gold badges - 1
I have 22 badges and that is enough.
Edit: Now they are 25:
Those badges I got in the last time.
Edit 2: 26 as I edited a wiki
Edit 3: 27 for flagging a post with only emojis


30, actually (:
I now have 32 badges, approaching yems
I found a major problem in the forum badges speedrun


this means that the speedrun will always take a year - we could omit this, and we have to, because i used the word omit so i look smart
Here is the answer to that
Also i noticed that some badges are stackable
Like "Aniversary" and "Nice topic/Reply"1
I will maybe break the record of most replies to myself…
28 badges now because I invited someone who forgot their /register password
29 now because of sharing a post (which got awarded 1 day after the post)
Why don't I get the "Nice Topic" badge on my phase appeal (Glasia's Phase removal appeal (08/15/21)) even though it has 11 likes and it is not off-topic?
30 Badges now! (Aficionado today at 8 AM UTC)
Most (>=10) liked topics not off-topic:
Finally