Frequently Asked Questions: One place for many questions.
Accounts
See Account Management Guide for more information about this subject.
How do I login to the server?
Select a character with the name that you want to login with.
Do /register [password] ([password] being the password you chose, in the Rift dimension, then do /login [same password]
For example, if I want to register with the username Mr Krabs and make the password krustykrab, I will join on a character called Mr Krabs then do /register krustykrab
Troubleshooting
| Issue | Solution |
| --- | --- |
| You are already logged in. | No action necessary. |
| You already have an account called [name]. | Use /rename [name] to rename your character to that name. |
| Your name has been used by someone else to register. | Use /rename to rename your character, then follow the steps to register. |
| I forgot my password. | Message @staff for a password reset. |
| I want to rename my account | Message @staff. Only do this if it violates the rules in Dark Gaming - Terraria Server Rules or causes technical issues. |
Perks
Patreon
To join the patreon program, you need to donate money to Dark Gaming | creating a Terraria Server and Community | Patreon. This program costs $7.50 per month.
You will receive the following perks:
Reduced anti-spam measures.
Custom/Private Zombies lobbies
Announcement messages for joining/leaving.
New ability in Zombies.
Focus of the Month
Crew
Directions
IF YOU OWN STEAM:
Go to dtp.dark-gaming.com and login using your player name and password.
Click on the icon that allows you to get Crew.
Select "I own this game with Steam."
Follow the directions to link Steam to Dark Gaming.
IF YOU DON'T OWN STEAM
Be sure to have at least 50,000 DP or 2 Credits. You can get credits by voting.
Go to dtp.dark-gaming.com and login using your player name and password.
Click on the icon that allows you to get Crew.
Select the method that you are able to afford.
The following perks that you get with Crew are:
/tp command
Dropping items in Survival
Building outside of the sandbox.
Summoning bosses in survival.
Creating maps for the Zombies minigame.
Moderator
Moderator gives you the ability to moderate the server. In order to apply for moderator, do the following:
Ban appeals
In order to get unbanned, you need to create a topic in Ban Appeals and follow the template.
If you do not have a ban link, rejoin the server until you get a ban link. After, follow the directions that the moderators give you.
Contact
You can contact staff using the following methods:
PM @staff in the forum.
Ping @staff on Discord.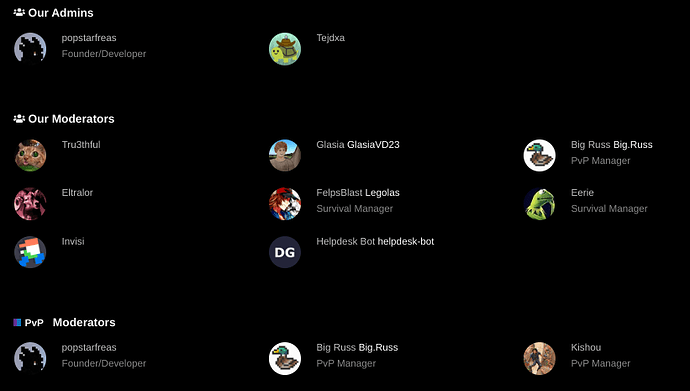 Discord
In order to join the discord server, click the onebox below:
DTP
Official DTP FAQ:
Economy
How to get DP and EXP:
Go to https://dtp.dark-gaming.com then d.o actions in-game, and be active on the server to gain DP. Farm Queen Bee or Plantera to quickly gain DP and EXP
How to get credits:
Go to https://dtp.dark-gaming.com then click on the banner that allows you to vote at Vote for Dark Gaming, then enter your username and complete the captcha.
Forums
How to login:
Click the Sign UP button on the top-right corner.

Enter your credentials then click "Create New Account."
Verify your account by checking your emails.
How to use the forums?
Some information on how to use the forums can be found here:
Trust Levels
Phase
Phase is a chat service that allows users to communicate with the Terraria server without opening Terraria, by using a web browser. After you have created an in-game account, enter phase.dark-gaming.com (PC) / phasemobile.dark-gaming.com (Mobile) then login to Phase with your in-game account and password. If you want, you can download Phase as a web application so you can use this service faster.
Server
In order to join, please put the IP address (t.dark-gaming.com) in the section where you enter the address, and put 7777 as the port number. Be sure that your version of Terraria is compatible (1.4.4.9 for PC and Mobile.)
Joining issues
Stuck on "Connecting to 158.69.123.128:7777"
If other servers work fine then you might be peer-blocked or the server might be offline. Contact staff on the server discord or make a new topic in #help-support to resolve this.
Stuck on "Checking IP... Complete!"
The specific dimension you are joining might be down. Try using a different port such as 7776 or 7779 instead, and switch to your desired server/dimension with the dimension's command name listed in /dimensions (such as /items to go to free items). Do not use port 7778 or you will enter Leafos instead.
What to consider when joining on mobile
Official announcement: Mobile Support
Known issues. These are on the server's github issues tracker to be fixed.
Mobile users in survival have issues with item drops.
Mobile users in survival are unable to craft items that have a different recipe on the PC version of Terraria.
Unable to join this server. Please make sure you connect to a compatible Terraria server intended for the latest mobile version.
The mobile version currently does not like our kick messages. If you get this message check that:
You are not banned
Your name contains only ASCII characters
Your name does not have too many capital letters in it
Dimensions
The guide for the dimensions of the server can be found in the onebox below:
Any questions? Post on

Questions & Support

or the discord server.