Why?
Recently, with the implementation of the "Blacklist-helpdesk" group , In order to remove the IP blacklist you will be required to send a private message to this group in order to get a solution to this problem
However, you may find that you
don't have the permission to send private messages
, due to how works the forum.
In short, The forum has 5 "Trust levels" ranging from 0 to 4, these decide what can you do and can't do
The moment you join the forum, you will be at
Trust level 0
, however In order to send messages, you will need "Trust level 1"
the requieriments are
Read at least 10 minutes

Visit 5 topics

Read 30 posts

And having an account

So here is a guide in order to get it as soon as possible.
Getting Trust level 1 (TL1)
Things to consider
First,
be sure you are logged in your account
You will need 5 topics with at least 7 replies each, I recommend these due to its medium length,
Cats with terra blades
How many colors do you have
Normal House
Your first time playing terraria
Post your terraria hours here
In order to get count as "Readed" You will need to spend at least 10 seconds, but we will use 30 seconds, due some bugs that may happen,and aswell to get the 10 minutes requirements.
Now, when you enter in a topic, Keep an eye on this
PC

Mobile
This number shows at which reply are you currently located
Getting the requirements
You are going to count 30 seconds when this happens, scroll down untill the number changes to the next one
After that, Repeat, Count 30 seconds, Scroll down, 30 seconds, scroll down and so on.
Do this until the number shown is "8 / Number" ,after that, just switch to another topic, and repeat the same action
At the end, you should have 35Minutes of read time, 40 Posts readed, and 5 topics visited
Did it work?
If you did this right,You should get a notification on your profile icon at the top left,
it should look like this.


If you still didn't got it, you can check what are you missing at your profile
Click on your icon, and select the little person

Then select Summary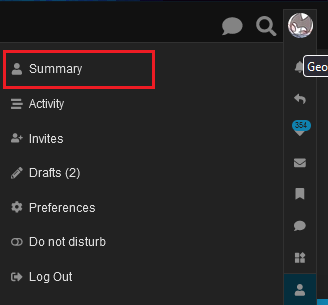 You should be able to see your stats, Check that these ones met the requirements.