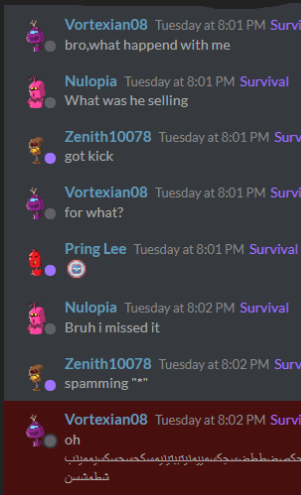 but Zenith told you what happened and why.
I have a bad comnection in my house.so Zen told me why I got kicked along with my continued spam
really?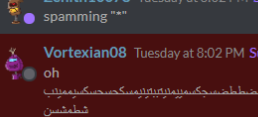 you said "oh" implying you saw what he said
let me remember it, give me some time
Yeah, I'm surprised traveling merchants are selling Captain America's shield
But when I say "oh" im lagging
When I was about to send spam, the connection at my house getting better , so the spam and the word "oh" were sent at the same time.
Yea, my last spam I made on purpose
Now it's up to you, give me a permanent ban or lift my ban
I can accept your decision
Can you read the rules and quote the rule(s) you broke? Do this in a new reply, don't edit your appeal. If you do not know how to quote the rules, read the guide How to quote the rules.
If you do not identify the right rule(s) that you broke or you do not know which ones you broke, I can make it clear.
#1

Spam

Spam is not tolerated in the chat. An anti-spam plugin is in use on the server to control spam while limited moderation is in effect; however, spam is punishable by Ban if the spammer shows no reluctance of future spam
I spammed exactly the same as the first spam example
Do you understand why what you did broke the rules stated?

Do you understand how you can avoid breaking them again?

Do you agree that you will not break the same rules in the future?

Do you understand that if in the future you break any of the rules that you were banned for already, that you will not be able to appeal again (unless the ban was a mistake or due to extenuating circumstances)?
Q1 : yes
Q2 : yes
Q3 : yes
Q4: yeah
This appeal has been accepted . Your ban has been lifted.