So if would you please consider my ban appeal, that would be much obliged.
I banned you because you broke two server rules on multiple occasions.
---
Rules Broken:
S1#5, Profanity and Related.
S1#6, Religious, sexual, political or other.
---
On multiple occasions, you used profanity at other players, including myself, and you used sexual language/innuendos similarly. I would like to go over a few pieces of evidence I've collected.
Evidence: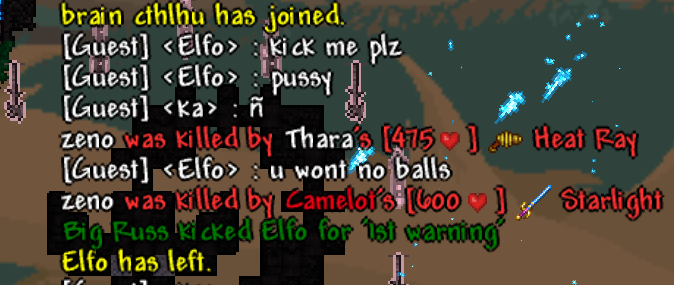 This was not an appropriate way to respond after not being helped as you would have liked.

After I kicked you, you said this to me. I knew that you were going to continue with this behavior simply because the warning was ignored.
You then switched names. The IPs matched, so there is no question this was you. I had warned you to stop with the sexual language, and you had to say it once more. This tells me that you do not actually heed warnings. This was the last warning I was willing to give you.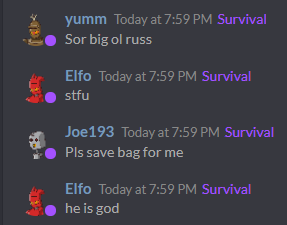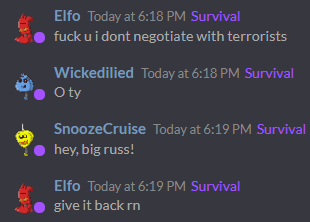 More profanity at others. Clearly my previous warnings did not discourage you.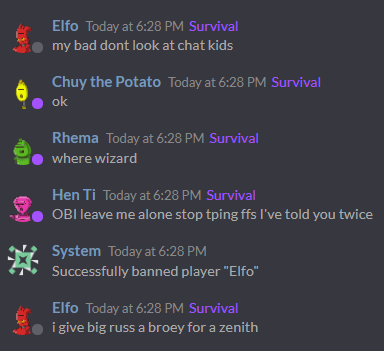 You continue with sexual innuendos. This was the last chat violation I was willing to see.
---
You state you are sorry, but is this only because I have finally held you accountable for your actions? To proceed with the appeal, I need to be fairly certain that if you are unbanned, you are much more likely to follow the rules going forth than not to. I am not that certain yet. Would you like to explain why you ignored my warnings?
Well i completely understand your precautions, and also understand what i did was wrong, and id completely understand if you refuse to unban me, because everything i did was very unprofessional and rude, but mostly for comedic effect, to attempt to lighten the mood in a few cases, and i do understand that there are alot of kids on the server who are unaccustomed to hearing such profane language, and ive been trying to get a ban appeal for 2 and a half hours now, and why would i try so hard to get a ban appeal of i was just going to end up saying something else to get myself banned, and if you do consider to unban me, i will not use such profanities again, and will not use anymore sexual innuendos any longer. But if you choose to permanently ban me than it is perfectly fine and acceptable, and all i wish to you is to enjoy your night.
I am confident enough to proceed with this response.
Can you read the rules and quote the rule(s) you broke? Do this in a new reply, don't edit your appeal. If you do not know how to quote the rules, read the guide How to quote the rules.
If you do not identify the right rule(s) that you broke or you do not know which ones you broke, I can make it clear.
I very much appreciate it

, and will not do such action again.
I think i quoted wrong lemme redo
I broke these rules:
I was being rude or malicious towards others, using profanities towards others, i was using sexual innuendos to address certain characters and to ask for a sword, and i was also using profanities to adress problems that were seen.
You broke:
S1#5, Profanity and Related.
S1#6, Religious, sexual, political or other.
Please requote only the rules you broke.
And also 1 and 4 but ill also add 5 aswell
You only need to quote the rules you broke. Please try quoting both correct rules again.
Well i was also being malicous towards others, and ruining the feel of the community, if you wish to include those.
No, what I mean is to physically quote both the rules you broke. Do not tell me them, you have to refer to How to quote the rules and properly quote them. I cannot move on until I see this.
This is what the reply should look like:
Put some text at the top.
I broke these rules:
Which are profanity, and the use of sexual innuendos, and im sorry for all this i was just being childish, gotta grow up sometimes, cant be 16 and act 7, well i very much appreciate your time, and wish you a good night.
Do you understand why what you did broke the rules stated?

Do you understand how you can avoid breaking them again?

Do you agree that you will not break the same rules in the future?

Do you understand that if in the future you break any of the rules that you were banned for already, that you will not be able to appeal again (unless the ban was a mistake or due to extenuating circumstances)?
Yes i understand what rules i have broken, i will substitute bad words with weird appropriate substitutes, i will not ever break those rules again, and i do understand that if i repeat my actions i will be banned permanently.
I just wanted to let you know I will be checking your chat history for a while to ensure you are upholding your part of the deal.
This appeal has been accepted. Your ban has been lifted.