Read above and use that as the link for Q1.
I just followed the link and it says he was banned for getting impossible items using a client but
1: I don't think we can even get clients because we are on pretty terrible Amazon devices
2: I just asked him and he says it was a bug and he has no idea how it happens, only that it happens once before and swapped his fiery greatsword for 30 fishing potions
Post this in your ban appeal.
Okay

thanks
Survival resets every week btw, so you would still lose your progress at the end of every week, just letting you know.
I check most of the discord channel pretty often, which includes player-reports, and that lets me view a tiny bit of the history. There Was Here got banned for using a modified client to get a solar pickaxe (i dont know how if you were on a terrible amazon device, but it happened, either that or he got it from a hacker and kept it).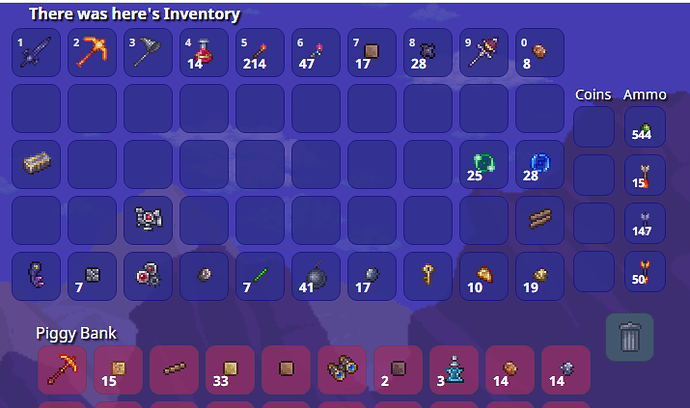 And creepface, which you already admitted to duplicating items, got banned for duplicating items.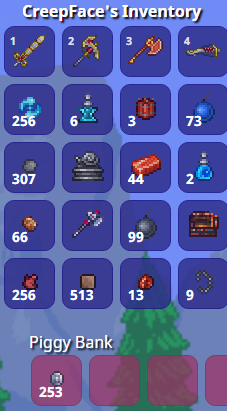 More importantly why does he still have an axe in his inventory despite having pickaxe axe
x-files theme plays
creepface actually has three different types of axes in their inventory. It's a pretty decent bargain if he sells everything besides his Pickaxe Axe, I'd wager he can snatch 3 gold coins from an NPC with that much to sell.
what a deal… he would gain back 0.00011857707% of his current net worth assuming he lost his platinum coins
I'd still save $3 if I had $25300 in my bank account, or in this case, I'd go out of my way to save 3 gold coins if I had 25300 gold coins.
Just to be clear, i kept the axes because i never use any chests or things like that. And don't mind the platinum coins, those were cheated.
However, im thinking of abandoning my appeal, as it doesnt seem to go anywhere. The person who banned me (i think it was popstarfreas), doesnt seem to be responding to me anymore. And i cant be waiting for ages of course…
Be patient, he will eventually respond to it
Popstarfreas is busy like yems says be patient so just wait
Guys I think I know how there was here got the solar pickaxe, so I was asking him about it and he says it might have happened cause he was dragging it about his inventory when he went through the teleported to survival, do u think u guys could fix this if it works (I might be wrong about it and it could just be a glitch) cause it could be exploited easily
Many players have attempted item transfer exploits in Survival before. This is nothing new, and many solutions have been attempted to fix this issue. If someone is trying to utilize exploits, they should be banned.
Okay, I hope his ban appeal gets accepted tho cause I can t play till it is cause of IP ban thing