what is Rolfe's username or handle to DM? doesn't show up in member search
You arent giving your password to anyone.
tl;dr: Dark gaming sends you to steam, you enter your password on steam, and steam tells dark gaming that you have terraria. You do not give dark gaming any passwords at all.
And this is the only authentication method? I find it hard to believe Mods can't choose to do this manually, rather than by automation that's not transparent.
Think of it as a goodwill gesture to the community at large.
Mods shouldnt have to do work that can already be automated. Also, theres no way to 100% prove that you have terraria, unless steam directly tells DG that you have terraria.
What do you mean by this?
I mean that an automated process without any oversight (by mods) is sorta questionable to begin with. A screenshot can be faked, sure, but trust goes both ways,
which explains my comment about community goodwill. This is Jack's Dad btw - just trying to keep my kid & his account safe.
Who are the mods that I can contact?
If you want to make absolutely sure that the account is safe, Rofle is probably the best and only person to message.
Click on Rofle's username on any posts he's made or replied to, and the press the message button that shows up. (post that I posted there was an example, you could go to that post and click his username there)


You can send a screenshot or proof to him personally like this, though I'm not sure if he'll see it or accept it.
Ok. Thanks for your help, I'll give it a shot.
Thanks for understanding and being cool about it. He has a blast playing here
but which username is his?
Rofle's username is popstarfreas on this forums.
The underlying system is based of OpenID, basically something like "sign in with google", "sign with this …". The system itself is pretty safe so long you ensure that you are on the correct website.
If you aren't logged into steam before, then yes you will need to give your password to steam(https://store.steampowered.com/).
And yes, this is the only authentication method. Other authentication methods like manual aren't full-proof nor practical.
That isn't necessarily true. The system simply works by redirecting you to Steam and asking steam for a list of your games. If your games aren't public, then it won't work, thus the reason why it needs to be public. In practice, Steam is overseeing this operation.
Reconfirmation by Steam itself(you see this when you're about to login):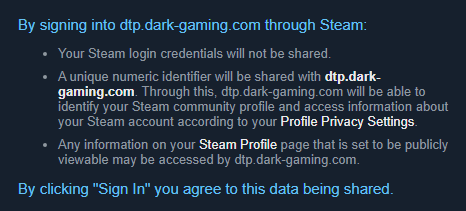 So i wanna ask, will my inventory will be increase if i upgrade to crew in dtp?
Nope.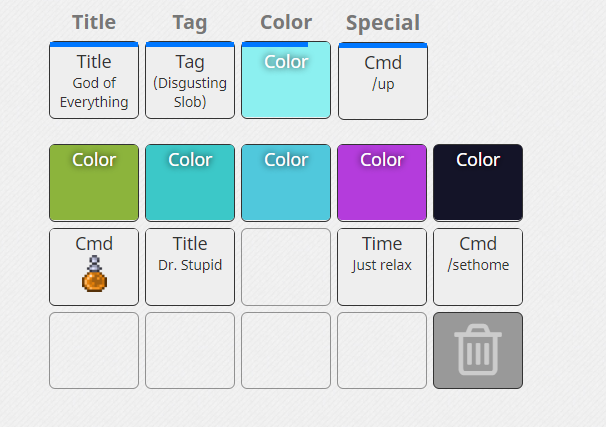 Still looks like this.
There is only one way to increase the size of your inventory: spend DP to upgrade it.
I thought your in-game name was Terraguy lol, I didn't realize you were "you whatever"