low quality anime and manga panels. have fun.
bruh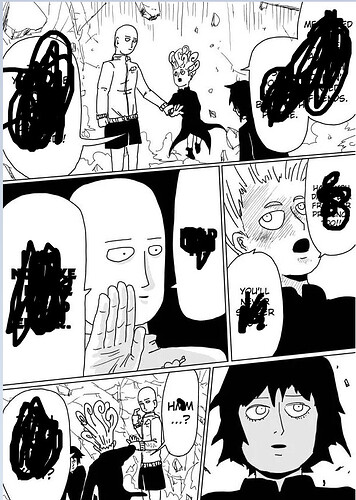 Here, a low quality manga panel from OPM not by Murata Yuusuke, but by OPM's original creator… by ONE. (It's official)
i rember when you joined the DG forums to get unbanned, your pfp was saitamna
That's because shill is a massive stinky weeb (gross)
somebody tell me why tf anime exists. WHYYY
Let me take you back to August of 1945…
Anime is just a style of cartoon but … Yeah it's associated with well you know.
the only thing i hate about anime is that they can kill people and they dont even care
like a million people can die and i dont give a damn, but Zane from Ninjago gets captured, and boom goes the (tear) dynamite
people still watch that?
i used to lol thought it wasnt much of a thing anymore.
the reason i dont like anime is because the characters and general stories are weird. You get stuff like kamehehehehehhaia or something really long and hard to spell, and weird plot lines with over-dramatized emotions.
Then of course theres the whole 'anime = furry' thing… people who watch anime are social outcasts in my school. You watch anime or any variant of it, and you are basically branded a loser until college.
basically, I've never seen the point in anime.
They shall watch me fighting Dyno on Discord!


They are dumb with taht. Only if they get a GPA of 3.0 they have the permissions to do that.
I can enjoy a few animes but in general it's just a little weird like how they always make the female characters have a really high pitch voice which i find really really annoying and it can be extremely weird with people that look 5 are having a full fledged relationship with people that look 30
Hey, how rude. Im way more hygienic than the average Terraria enthusiast. You're more stinky Mech.
When you become my husband
eeeeeeeeeeeeeeeeeeeeeeeeeeeeeeeeeeee
this just got so derailed so fuckin' fast
Bet⠀⠀⠀⠀⠀⠀⠀⠀⠀⠀⠀⠀⠀⠀⠀⠀⠀⠀⠀⠀⠀⠀⠀⠀⠀⠀⠀⠀⠀⠀⠀⠀⠀⠀⠀⠀⠀⠀⠀⠀⠀⠀⠀⠀⠀⠀⠀⠀⠀⠀⠀⠀⠀⠀⠀⠀⠀⠀⠀⠀⠀
Please. (as seen on BBC to get 10 chars)
Wtf you mean, Zane getting captured is a very important thing. He is the robot of the team and comes up with most plans. Saying that is very offensive and I can not and will not stand for it. (Joke)