lol!
cringy anime in a nutshell
zane being captured was sad for me (and _____ being gone made me even sadder)
What has anime even got to do with what I just said?
just the way you said it is so similar to crappy romantic anime
Sounds like you watch more anime than me, I didnt even know that. You sure know a lot

nah i watched a bit of it a few weeks ago because people seemed to like it, and i hated every second of it.
like, forcing me to watch anime should be some sort of torture device
this is for low quality manga and anime frames, not a chat room



0/10 not low quality call me when its lower quality
Unfortunately, only a few including me here likes anime. The rest dislikes anime and consider anime as cringe and leave it at that. Though I can't say they are wrong. But imma still drop some low quality manga's here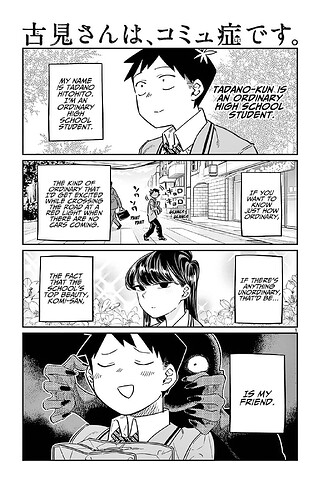 A really old manga panel of Komi-san wa Komyushou Desu. Chapter 23.
Im originally a manga reader of "Komi-san wa Komyushou desu". While I'm glad that it finally has an anime adaptation after nearly 300 chapters, I havent watched a single episode of the anime

It's because I already know what's gonna happen.

i dont hate anime, just that its always the same thing.
HA! same here with demon slayer!



That's cool but kinda random
That would be the greatest battle ever