I've started work on the submission for a map I made with the help of @Rafaelgamerplay_raf. I've got a few problems, though.
For once, I can't decide on a proper name on the map. I've thought of the name "Crashland", but I'm not sure if it's good enough or sounds right.
Second, I need a little help on overall balancing. For now, I've made a weapon chest for a ranger class (Astronaut):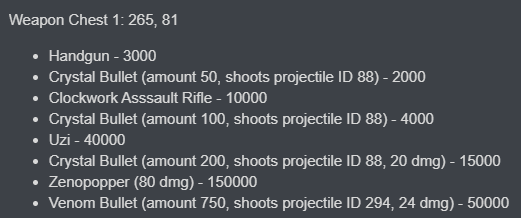 (Projectile ID 88 is Laser Rifle's projectile, it can pierce through 2 enemies; projectile ID 294 is Shadowbeam Staff's projectile, it can pierce infinitely)
If you spot any balance changes that should be done, know any vital information that should be kept in mind during making the submission, figure out any names for the map, or have other suggestions (whether it be weapons, accessories, ammo types, etc.) I'd love to see them.
A snapshot of the map: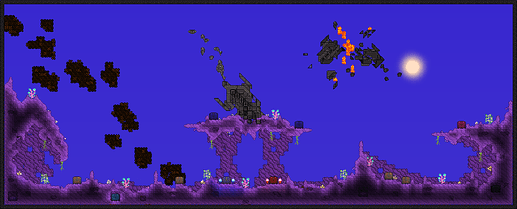 The map's right above locean if you'd like to check it out.