bro Is the appeal reasonable?
It's structurally sound, but as I mentioned in a previous reply,
The format needs to be followed exactly.
cam you check me again this it ok now ?
Yup, it is. Thanks for sticking with it.
Judging by how frequently you have been using profanity in general the last few days, I am not convinced that the above statement is true, and that you will suddenly change this behavior when prompted to. Here is my evidence proving why I think this: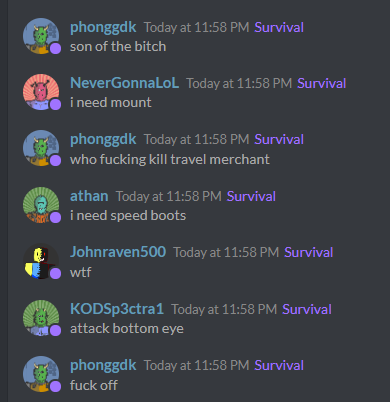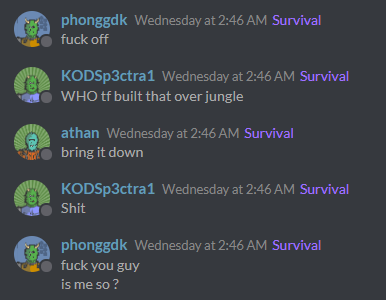 And that is not even all of what I have seen from you. Would you like to add anything to better help me believe that you will in fact change this behavior in the future, and follow the rules if unbanned?
because sometimes i will get angry and nervous depending on the mood but i promise if i commit another swearing again admin can ban me without compromise
Everyone makes mistakes in life and must give them a second chance, right?
When we have made a mistake once, we must also know how to correct it so that it does not happen again, just like I made a mistake, I will talk more delicately to correct my mistake.
yes if i swearing again there no more change for me to fix
Can you read the rules and quote the rule(s) you broke? Do this in a new reply, don't edit your appeal. If you do not know how to quote the rules, read the guide How to quote the rules.
If you do not identify the right rule(s) that you broke or you do not know which ones you broke, I can make it clear.
i broke this rule
#5 Profanity and Related
Profanity and related language is to be used rarely and may not be used against someone
This is the correct rule, however you need to properly quote it. Refer to How to quote the rules to learn how to.
Do you understand why what you did broke the rules stated?

Do you understand how you can avoid breaking them again?

Do you agree that you will not break the same rules in the future?

Do you understand that if in the future you break any of the rules that you were banned for already, that you will not be able to appeal again (unless the ban was a mistake or due to extenuating circumstances)?
I understand I promise I won't do it again
This appeal has been accepted. Your ban has been lifted.