I opened up creating "Events" to TL1 and above to see if it would be of use to anyone. For now, #terraria-server is probably the best category for any topics around user events, at least for now while there have been no such topics.
How to create an event?
While editing/creating a topic, click the cog, then Create event: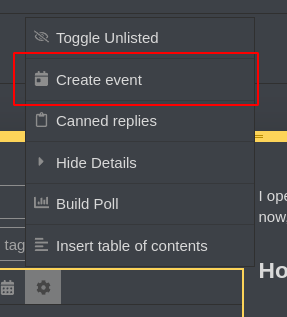 It will give you a form to complete. The preview may look a little strange:



Once you actually post, it will change into the actual event box you may have seen on another post.
Note also that, if you edit your post to create an event after already posting, I believe that the topic title will not have the preview of how far away it is.
And
Please only use it for actual events relevant to the server, not for jokes, unrelated events or anything that isn't really happening, otherwise, I will need to re-evaluate who can use it.