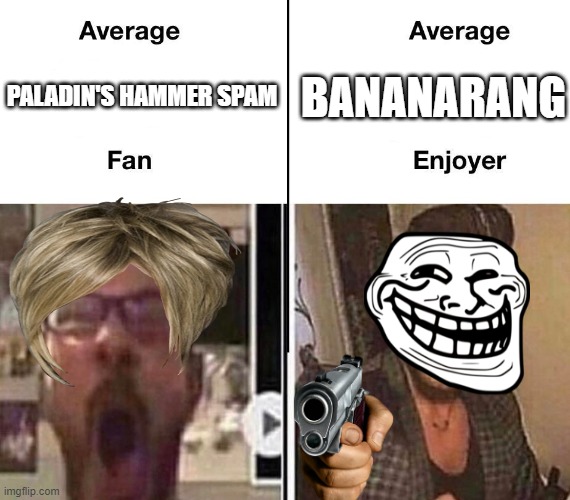 Remember kids, stay cool, stay in school, and dont spam the P hammer. (And use bananarang while its good)
Bananarang is trash lol, use phatched or phammer
whats phatched also wouldn't that make you a phammer spam fan?
Same. Elf melter + hexxed branch dash = your opponent is outran by three times the speed of light
There is not enough horizontal velocity with that build.
Maybe, but only slightly, and it slows down pretty quickly. Tree goes at a constant speed indefinitely (unless you hit a wall).
Well, then we can all agree that the slime mounts go faster vertically than both of them horizontally.
Definitely, tree can outrun your opponent with a slime mount though, if they're chasing you.
Hmm, looking at the wiki, a PvP gamemode where everyone is always on a mount could be interesting
Not necessarily, PvPers can leverage your lack of vertical velocity.
A while ago, there was a tournament where everyone had to ride the UFO mount at all times.
isnt the whole point of the tree to be faster
Even with cartdash you could just out-maneuver your opponent
It's a typo; I meant vertical velocity.
It depends on the competency of your opponent.
I mean, it is good DPS, when you run at mach 10 at someone and follow them around.
yems bananarang is good use it with like three glove accessories and shinobi infiltrator's torso trust me its good
I'll use it with my max melee speed loadout
With the fasterboipvp loadout I made the boomerang weapons are so fast they increase in radius, phammer stretches to the edge of your screen lol