Balance Changes
Solar Flare Helmet: Defense -1 (21)
Solar Flare Breastplate: Defense -2 (24)
Combat Wrench: Damage +3 (99)
Solar Eruption: Damage -3 (73)
Flying Dragon: Damage -2 (52)
Chlorophyte Partisan: Max Damage +4 (122)
Light Disc: Damage -8 (76) | Max Damage +6 (116)
Possessed Hatchet: Damage -2 (78) | Max Damage +2 (122)
Flairon: Damage -12 (60) | Velocity +9 (23)
Shadowflame Knife: Damage -2 (71) | Velocity: +1 (9)
Betsy's Wrath: Damage -3 (66)
Magic Missile: Damage -2 (68) | Max Damage -6 (84)
Blizzard Staff: Damage: -1 (36) | Max Damage -2 (40)
Meteor Staff: Damage -3 (49)
Shadowbeam Staff: Damage -1 (49) | Max Damage +3 (61)
Crystal Serpent Staff: Damage +4 (84) | Max Damage +3 (125) | Velocity +9 (22)
Crystal Storm: Velocity +8 (24)
Uzi: Damage -14 (48) | Max Damage -2 (50)
Flamethrower: Damage -4 (54)
Elf Melter: Damage -3 (48)
Blizzard, Meteor, Eruption, & Flying Dragon:
Simply put, these weapons are weapons that I don't like being center pieces of the active play. They should be strong, but not overpowering, and, especially in mage kits, I still feel these are too powerful.
Flamethrower, Elf Melter, & Uzi:
Simply far too easy to hit the cap with far too little investment into ranger damage sources.
Crystal Storm, Crystal Serpent, & Flairon:
Infrequently used, these 3 have lacked popularity for a long while now, so I'm taking a different approach to showing them some love, and drastically increasing velocity.
Basically everything else:
Lots of little touch ups, damage nerfs and cap raises, these are simply a result of kits hitting their cap a little too easily. (yes this includes Light Disc's)
PvP Tournament
As was mentioned in the last update, we're hosting a summer tournament to send off one of the hottest summers ever, August 20th ~ 22nd. A repost of the requirements for those interested in participating:
You must be a recognized PvPer.
The tournament's goal is to be hosted on a friday and end on a sunday evening. This simply means if you've never PvPed on DG before, you're out of luck.
You must be available from

9:30 PM

~

2:00 AM

August 20th ~ 22nd (in-game)
and that's it! If you'd like to participate, contact me on Discord (Blanc#6336), or you can try to flag me down here or in-game. Sign ups close on the 19th!
Top 3 will receive Discord Nitro for a month!
Halloween!
If you aren't aware, we like to celebrate some holidays with special modifications to the arena, and Halloween is one of our favorite! Here's a spoiler of the arena: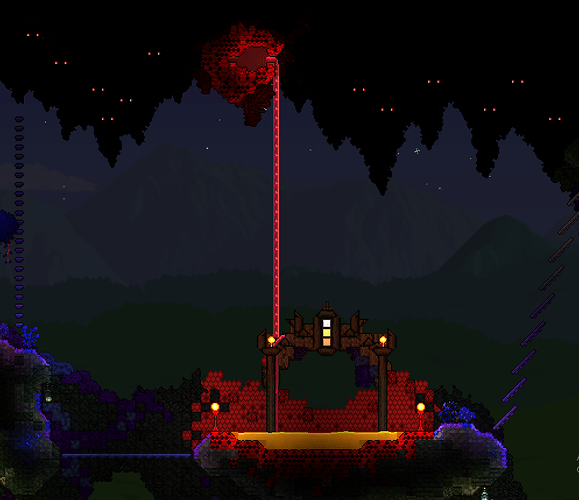 Subject to change, obviously, as it's not yet the fall season