PC/Mobile
Both. Anything that's able to connect to Phase.
Dimensions or Services it affects
Phase
Your in-game account name
Tru3thful
How often it happens
Any time that a fish gets away in Phase fishing? There might be more, but I haven't done much with PhaseBot yet in terms of the games.
Any screenshots or videos showing the bug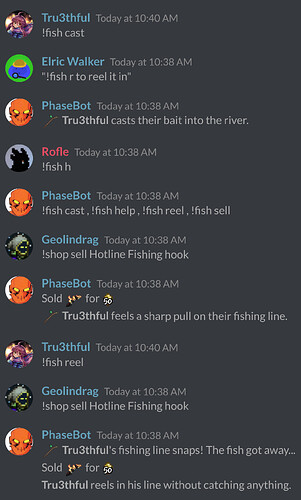 It's kind of odd that gender neutral terms, i.e. "Player casts
their
bait into the river.", "Player feels a sharp pull on
their
fishing line.", etc. are used for some parts, but by comparison, some other parts use a specific gender term; as shown here with the last message, "Tru3thful reels in
his
line without catching anything." It's, uh… well, sometimes wrong in some circumstances, since not every player in the community uses typical male pronouns.