[1] Members name.
Oofity
[2] Report: what rule(s) they broke (quote them).
[3] Did this affect anyone (e.g. they were using their hacks in PvP)?
Affected the player Mr.Memer Man, who were going to trade his paladin's shield for a influx he supposedly had.
[4] Evidence. (If this includes chat, Phase link one or more messages)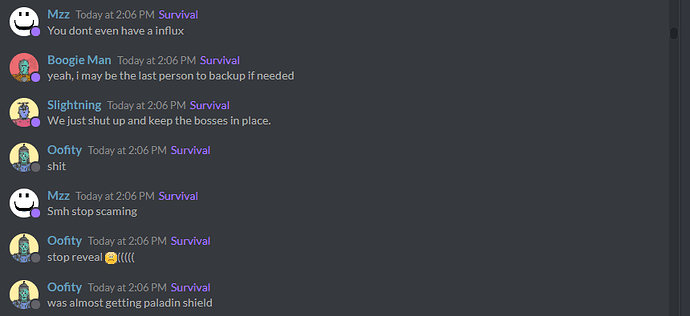 First Mzz said that he was scamming him but unfortunately, he went with the trade anyways
https://phase.dark-gaming.com/#messageref_68582356

And then he scammed the guy and gave an fake excuse and left.
[5] Dimension: (if this is a server report).
Survival
[6] Roughly, the time (in UTC) the offence was made. (if this is a
server report)
Around 2:06pm EST