Welcome to yet another mass sale. Purchase instructions are explained below.
Using the credits you've obtained after voting, you can now gain TWO vote loot boxes from each server vote you make! What items will you get?
---

---
Stock:
| Quantity | Item Type | Cost (in Credits) | Cost (in DP) |
| --- | --- | --- | --- |
| 1 | Voting Loot Box | 0.05 | N/A |
EVERYTHING BELOW HERE IS SHAMELESSLY STOLEN BY BIG RUSS. With slight modifications.
He makes impeccable sales descriptions, can you blame me?
Go check his sales out.
---
Please Read BEFORE trying to purchase:
ALL TRADES ARE TO BE ACKNOWLEDGED HERE FIRST. If you send me a trade without letting me know FIRST, that would be unfair to those trying to officially purchase it through my offer here. To prevent issues, just let me know here before sending the trade. Additionally, you need to make sure what I agree to trade you is what you traded for. If you try to buy any items not listed in my "Sale Guide", I will cancel the trade.
YOU NEED TO BE HIGH ENOUGH LEVEL TO BE ABLE TO MAKE TRADES. If you do not see the "Trading" tab on DTP, you cannot trade and therefore cannot purchase anything from me (until you become high enough level). (This may be outdated information, I do not know if all players can trade now or not, but I am still going to mention it in the event that I am right.) The trading tab looks like this: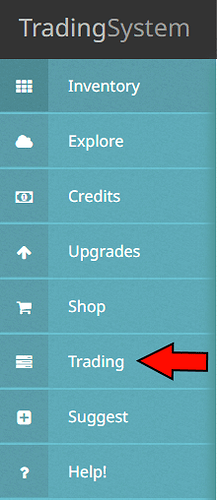 I AM NOT RESPONSIBLE FOR THE TRADING COST. Trading costs 50 DP per transaction. If I was the one initiating the trade I would be losing some profit, which I am not willing to do. You must set up the trade after I have accepted your offer here, I repeat I am NOT going to pay for the trading cost.
THERE ARE NO RETURNS ON LOOT BOXES. Once the trade is accepted, the deal is final. Loot boxes strictly operate on chance. I am not at fault or responsible if you open your loot box(es) and are unhappy with the results. This is the risk you take when purchasing them. If for some reason a trade is bugged, open a topic in

Bug Reports

, and a staff member will handle it accordingly. If trades become inoperable while my sale is ongoing, I will discontinue this whole thing until they work. There should be no error on my end, as I will be double-checking every trade before accepting it on DTP. If it is my fault, I will cover the cost and make it right. Just wanted to say once again, NO RETURNS.
THE PRICES LISTED ARE FINAL. Refer to my sale guide for the price of each loot box, this is not negotiable. If you see N/A, it means that I am not accepting that type of currency for the item.
ITEMS CANNOT BE RESERVED FOR LATER PURCHASE. This shop will operate on a "first come first served" basis, simply to be fair to all those interested in purchasing my items. I ran into an issue last sale when a few people requested items to be held, so to make things simpler that is now discontinued. Requests for items to be reserved for later purchases will be denied, just so you know.
DO NOT POST YOUR OWN TRADES HERE. I have set this up as my shop, and this process is somewhat time-consuming. Please make your own topic post if you wish to do what I am.
DO NOT POST OFF-TOPIC DISCUSSION HERE. If you have any questions, feel free to ask in a new reply. Otherwise, please keep the discussion on topic.
---
When you create a trade, you acknowledge having read all of my sale terms, and agree to them. CREATING A TRADE BINDS YOU TO THIS AGREEMENT.
---
Feel free to post your looted items here, I am quite curious to see what everyone gets.