I just got new user of the month.
So you were the 2 who got it this month, only 2 each month get it. Congratulations and also welcome to the gang, I also got it when I was new
Congratulations for the both !
[/col] Congrats! [col= a cool red im not finding one by using energy, like thats boring]
That is how my brain works
Congratulations!
It's pretty nice when you don't get New User of the Month when you first join (like me), because you'll never be able to get it again.
Everyone who is a bit active and created an account after sometime in 2020 is sure to get new user of the month due to all the likes going around.
Don't you mean when you DO get it?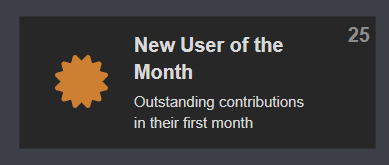 Outstanding contributions in their first month
I made no outstanding contributions in my first month here.

I too made no contributions in my first month. I also think i joined on like feb 28 or something, so idk if it would even be possible if feb was my only month to get it.