if i showed my handwriting it would suck
Fun Fact

I have dexterity issues and so that is why I write like a kindergartener.
I write in both English and in Japanese Kanji
Interesting, I always wanted to visit Japan, do you live in there or are you descended from Japanese parents/grandparents or something?
I don't live there but I do believe I have some Japanese heritage even though most of it is made up of German heritage
In Cyrillic script I write cursive but in Latin script I write normal letters
I never write normal in English it's always cursive
I write using an abnormal way instead of aligning the pen between my fingers.
I hold and grip it hard with the entire hand.
I do believe I have some German, Irish, Italian, as well as some other Native American heritage. Ofc, my last name is Irish, and my dad's side is Italian (despite not knowing anyone in our family from Italy)
I think my ancestors are also from the Irish Potato Famine, immigrating whenever that happened in the 1800s or something (1850-60s I do belive, correct me if I am wrong)
I type in Russian but I don't write it on paper
I might do it every so often
Mine is like if you ran over a notebook. threw it to nuclear waste, Burned it and then making a photocopy at 50PPI.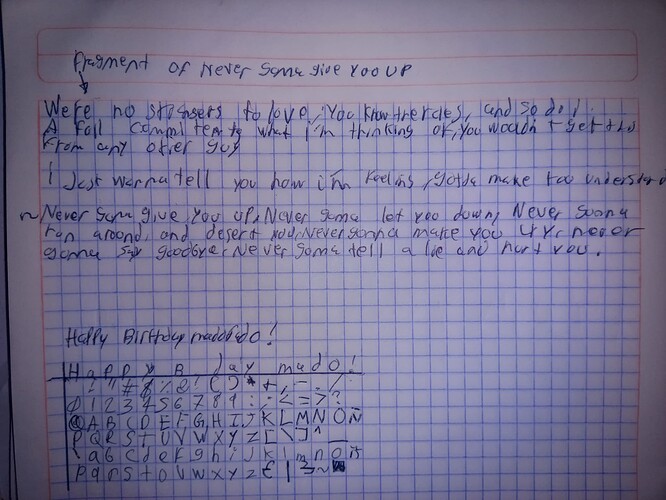 Unless i have enough patience to do it, Or motivation, then at least its decent, Aside from that, That its how looks normally.
Bruh i have jus been Rick Rolled : (
💀💀💀

This text will be hidden
im too lazy to send an image, but ill say this much - ive develeoped this type of handwriting. so you know how handwriting is very clean and fancy, my one is like that but on the opposite side of the spectrum, no formula, pure chaos (mostly made by writing so fast you dont take the time to lift your pencil from the paper which is harder then it seems). my very messy yet self legible writing is in extreme contrast to my english which is decent