Your editing the title not the post.
Start editing then edit this part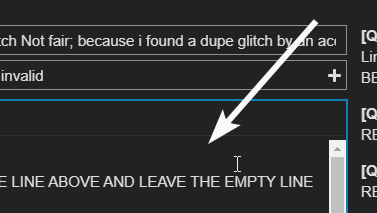 instead of the top part
Yeah, one last thing, your ban link is incorrect. Join the server and it will tell you the correct ban link
Is that it? Is it accepted or denied?
Ok just add a gif to proof it
I'm still waiting

Idk how long am I gonna wait but I'm still waiting

It is fair. Nobody asked you to continue doing it or to keep the extra items you gained from doing so. Judging from how many items in your inventory were duplicated, you should've been well aware of what was happening.
---
Can you read the rules and quote the rule(s) you broke? If you do not know how to quote the rules, read the guide How to quote the rules.
If you do not identify the right rule(s) that you broke or you do not know which ones you broke, I can make it clear.
I broke this
#2-bugs-exploits
The rule needs to be quoted, the same way that is shown in How to quote the rules.
That rule would be the reason provided in your ban link, "exploitation in survival".
Do you understand why what you did broke the rules stated?

Do you understand how you can avoid breaking them again?

Do you agree that you will not break the same rules in the future?

Do you understand that if in the future you break any of the rules that you were banned for already, that you will not be able to appeal again (unless the ban was a mistake or due to extenuating circumstances)?
1 yes
2 i will not use the splitting thing ever again
3 i agree
4 yes i understand
This appeal has been accepted. Your ban has been lifted.