As per usual, I was just observing the various topics on the forums progress, and then I saw this:
The forums are based on Discourse, which has 4 "trust levels", outlined here. However, for several users, most of these are irrelevant because they only joined the forums to create a ban appeal. So what do trust levels have to do with ban appeals?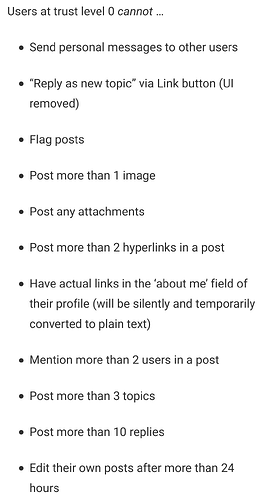 Key thing: Trust level 0 users cannot edit their own posts after 24 hours. This isn't explicitly stated anywhere on the Forums, though, so if someone attempts to edit their ban link into their ban appeal (as shown in the example) but they aren't of a high enough trust level to do so… well, they can't edit the link in, or edit in anything at all. However, on that Discourse blog, just below the TL0 restrictions, I noticed this:

Therefore, shouldn't some of the post editing restrictions be relaxed so that new users with an invalid ban appeal can fix it up instead of having to write a new one?