Welcome back to my auction! This is an item I anticipate many users want. This is a rare opportunity, take advantage of this offer.
---
Auction Start: November 13th at 3:00 AM UTC
Auction End: November 17th at 3:00 AM UTC
Item of interest: R1 Color, Perfect White

Minimum Starting Bid: 0.15 Credits
Overview: Despite it's R1 rarity, this is quite a difficult item to obtain. This is due to the large number of items in circulation. Do not leave yourself up to chance, claim it while you can! I am offering this item to the highest bidder.
Applications/Perks of using a Perfect White:
Guest imitation: This is what many user use this color for. Simply craft a "Guest" custom title, equip the perfect white chat color, and voila, you now appear to be a guest.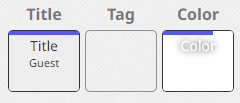 ---
Auction Guide (Please read BEFORE making an official bid):
THIS AUCTION IS VALID FROM: November 13th at 3:00 AM UTC, to November 17th at 3:00 AM UTC. Please convert this time into your local time. Late bids will not be accepted, I will only acknowledge the last valid bid in this time slot.

ALL BIDS ARE TO BE PLACED HERE AND ONLY HERE. Do NOT send me a message in Discord, in-game, or anywhere else you are capable telling me to remember your bid, it will not be a valid bid. Additionally, I will not set any strict format for the bid, feel free to get creative if you so choose.

BIDS BELOW THE MINIMUM STARTING BID ARE AUTOMATICALLY INVALID. I find it incredibly annoying when I spend time making these sorts of things just for someone to skip the reading and post something ridiculous. The starting bid is 0.15 Credits, this is not negotioable.

BIDS ARE TO BE DONE IN INCREMENTS OF 0.05 Credits. Please do not tell me your bid is 0.051 Credits, I do not want your additional 0.001. (Valid bids are 0.05, 0.1, 0.15, 0.2, etc. and 1, 1.05, 1.1, etc.) Additionally, do not place a bid lower than the previous one you see, this will be ignored. What I am getting at is please do not make a bid with the intention of it being to troll me.

BID ONLY WHAT YOU CAN AFFORD. You are not allowed to make a bid higher than your current amount of Credits. If you have 1.00 Credits, this is your MAX amount you can bid. Your max bidding amount will likely be able to increase later since this auction lasts one week, and you will likely be voting daily. Use this to your advantage.

YOU NEED TO BE HIGH ENOUGH LEVEL TO BE ABLE TO MAKE TRADES. If you do not see the "Trading" tab on DTP, you cannot bid on this item UNTIL you become high enough level. (This may be outdated information, I do not know if all players can trade now or not, but I am still going to mention it in the event that I am right.) I will trust that you are capable of trading if you make an official bid. Please do not make me regret this. The trading tab looks like this for reference:

THERE ARE NO RETURNS ON THIS ITEM. Please be 100% certain that you want this item when you bid for it. Once I accept the final valid bid, and you send me the accepted trade amount, that is it. If anything unexpected comes up, I will cancel this bid until I am certain it can be held with success. Just wanted to say once again, NO RETURNS.

DO NOT POST ANYTHING OFF TOPIC HERE. I have set this up as my shop, and this process is somewhat time-consuming. If anyone posts anything irrelevant I will delete their post, no questions asked. Please make your own topic post if you wish to do what I am.
When you create a bid, you acknowledge having read all of my auction terms, and agree to them. CREATING A BID BINDS YOU TO THIS AGREEMENT. Anyone in violation of my auction guidelines will be warned. Repeat offenders may be banned from my future sales/auctions. Please do not troll me, I say this again.
If you have any questions, feel free to ask here.