[Q1] Provide the Ban link or if none, the reason
https://ban.dark-gaming.com/7856
this is the rule broke:
[Q2] Did you break the rules knowingly?
no
[Q3] Do you think your Ban was fair? If not, please provide a reason.
yes
[Q4] Why should we unban you?
firstly i want to state that i didn't realise i was banned until recently - no ban link would show and it would only display "Checking ip: Complete!" when i tried to join the server. it seemed that my ip had been blacklisted and i was kept in the dark about it so i'm not entirely sure what i should write about, for all i know is that i have been banned for impersonation as stated by my ban.
without any screenshots or even knowledge of who i have impersonated, i would like to ask for a screenshot (if possible) of the person i have impersonated because without this i am unsure on how i am supposed to appeal, what i should write about in my appeal, etc. if it isn't possible for a screenshot to be provided, i will assume that my impersonation of someone was done through text in chat, and so please understand that i was most likely being satire in my comment(s). i apologise for my breaking of the rule and to anyone that i may have offended through breaking said rule. i have re-read the rules of dark gaming, and i will be much more careful to not break the rules next time.
edit: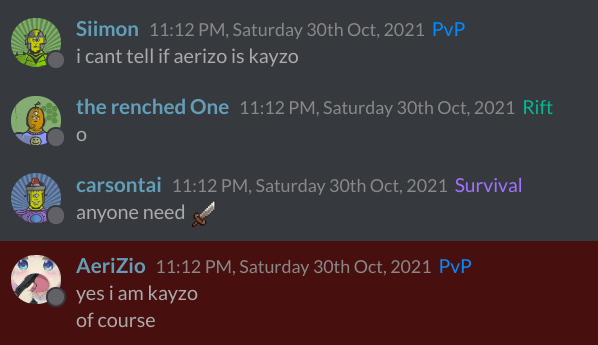 i believe this screenshot is the reason for my ban, so i will appeal for this:
like i said before, i was intending to be satire in my chat. i said this with the purpose of it being a joke, and i understand now that this was not okay and i should have simply replied stating that i was not kayzo. so, once again, i am sorry for breaking this rule and will 100% make sure to never break any of the server's rules again, if i get another chance to play on the server.
thanks for reading