did the right command just cuz, what does it even do lol
I think it goes to the right of the world
lol
it probably doesn't work in survival rite
N3m3sis Fan title for 300 dp.
Trade has been initiated.
Due to a new development, i have decided to bin almost everything in my invenotry so i can no longer accept trades
Not for this entire page but my little spot, if that makes sense, people can still post their trades here to their hearts content. (Sorry if i worded it so it sounded like i was closing this page)
Bump for new users.
---
Weeks gone by: 0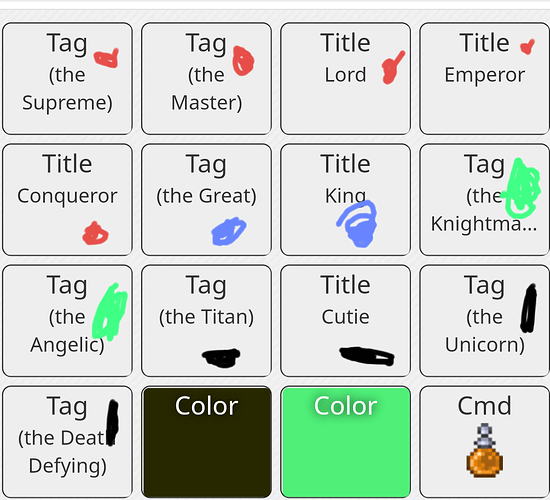 Red dot → R9 → 0.25 credits or 1000 DP
Blue dot → R8 → 0.2 credits or 800 DP
Green dot → R7 → 0.1credits or 650 DP
Black dot → R6 → 0.05 credits or 500 DP
Colours cost 0.05 credits or 400 DP
/buff cmd cost 0.05 credits or 600DP
I shall not be initiating the trade request unless
ABSOLUTELY NECESSARY
, meaning that if you really want to have an item from my shop but dont have the necessary dark points to do the trade and i see it as a worthwhile trade i may initiate the trade for you (if you request this i shall be checking your DP balance before hand to make sure you are not lying to me)
Also as a last thing i would be willing to accept loot boxes instead of credits for the R6's and the colours. (T1, T2 and voting lootboxes are all accepted)
If you happen to think any of these prices are unfair tell me and i shall consider adjusting them.
EDIT: altered some of prices as hardly anyone is buying anything
I'll buy the tag the Angelic and the bright green for 1200 DP (And yes I used a calculator to add up the amount so yes it's accurate)
Update I sent the trade data ready when you are
(My poor DP balance is gonna hate me but I gotta have them both I'm only going to have 752 DP left after this trade)
Trade accepted

Thx I just saw this I may have fallen asleep lol
I hope you enjoy the DP :3
Thank you for buying stuff from my shop : )
I have lowered some of the prices as no one is buying
Just checking before i put them up for trading, /sethome and /myhome dont work is survival do they

R8 items (Hero, Ancient One) 1500 dp or 0.25 credits each
R7 items (Warrior, Eternal, the Paladin) 1000 dp or 0.20 credits each
R6 items (Duelist, Renegade, the Knight, the Show Off, the Glitch) 750 or 0.1 credits each
R5 items (Elite, Perfectionist) 500 dp or 0.05 credits each
R4 Red 500 dp or 0.05 credits each
All of the colours are 300 dp or 0.05 credits
/sethome cmd- works well with /myhome,
/[SC] !cmd- sign command, wright something on a sign then break it to initiate the command (i couldnt check if it works in build because i cannot do anything in build for some reason)
Wormhole potion just enable permission for the wormhole pot to be used, is used in survival (its a good filler if you dont have crew for tp to someone)
/sethome R3 cmd price at 1000 dp or 0.2 credits
/myhome R4 cmd priced at 1750 dp or 0.35 credits
[SC] !cmd R5 cmd priced at 2000 dp or 0.4 credits
Wormhole pot perms priced at 500 dp or 0.1 credits
Tell me that you have initiated the trade here so i will see it, you initiate the trade unless absolutly necessary, dont send faulty prices as i will just decline the trade and call you out for it.