I think a staff or admin kicked you as a joke something
I got the same thing too multiple times before, it mainly happens on PVE if I try to enter it. Don't know the reason yet.
From my knowledge all staff here are (usually) respectful people and have not done anything like this in the past
When you get kicked by staff, I think it gives a message at the beginning like "You were kicked for" or something.
Well, a lot of weird shit has been going on in Dark Gaming recently.
Nice to know.
Do you get kicked because of Added buff to NPC abnormally?
In PvE, you'll get kicked for inflicting certain buffs onto NPCs.
If you wear the Fire Gauntlet in version 1.4.1 (PC), you'll inflict the Hellfire debuff.
However, PvE has cross-platform compatability, and Hellfire was not a debuff before 1.4.1 (anything besides PC e.g. Mobile)
Which Dimension did you get kicked from Torabi? Survival?
It's probably not added buff to NPC abnormally
If multiple people are getting banned and get *G, then are all the circumstances the same?
Do they get kicked upon entry?
Does this happen with one or more Dimensions?
I surmise if they get kicked upon entry, this peculiar happening has not been a cause of staff interference.
Is this a recurrent thing or was it a strange one-time appearance?
I don't think it's Added buff to NPC abnormally, I got it sometimes and maybe because I was lagging, it has happened to me 3 to 4 times.
It is not a "ban", more like a "kick", and the numbers & symbols are random every time, I posted few screenshots on discord regarding the weird things.
Here are all the screenshots I currently have: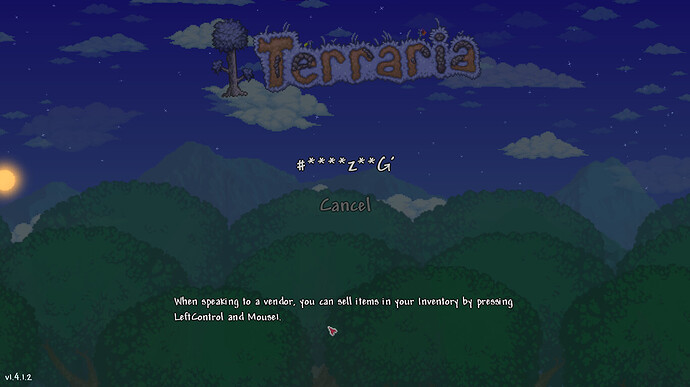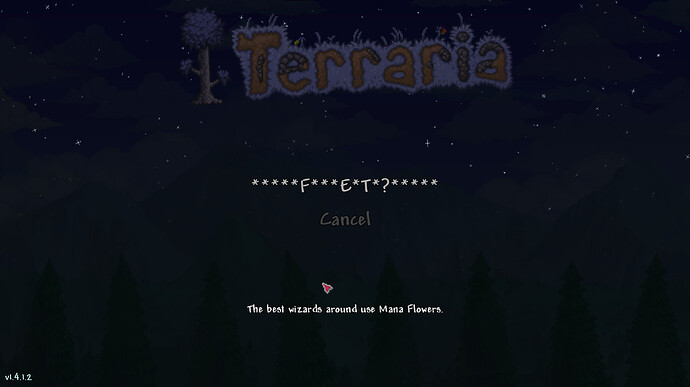 For me, It did say "You're in Boss Dimensions" in the chat but I was still stuck at the last dimension I tried to enter PVE from (Rift via teleporter & doing /pve command while in pvp dimension) but the "error" is a bit different, like this: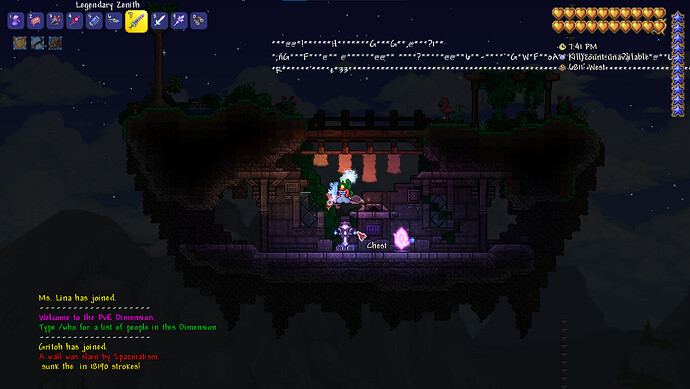 So far, I only experienced this with PVE.
Not sure, It happens sometimes.
If the staffs are that immature, they will get demoted, kicked, banned, hunted, squished to atoms.
Banned is the wrong word. I should've used the word Kick.
I think I have somewhat of an idea of what's going on.
I'm not sure why such strange and seemingly random text is being generated. However, I think it might be a recurring tile data error.
Strange text appears in lieu of Tile Data % to the top right, and you get kicked whilst in transference to PvE.
PvE has always been a problematic dimension regarding transference to it.
If this is a world loading error, that still does not explain the occurrence of the strange text. Perhaps some Plugin has gone haywire.
It's possible the entire packet is corrupted. Terraria uses Asterisks(*) in place of Boxes() for unrecognized characters. A bunch of asterisks is always never good
yes i was in survival doing my thing
Maybe bro or he doing something wrong at dark gaming