How im get the perm of others players no break my house in town?
If you're referring to Survival, you need to use the command /house define to claim an area up on the spawn platform. For access to that command, though, you need to have Crew status on your account, since the house commands are tied to Crew permissions.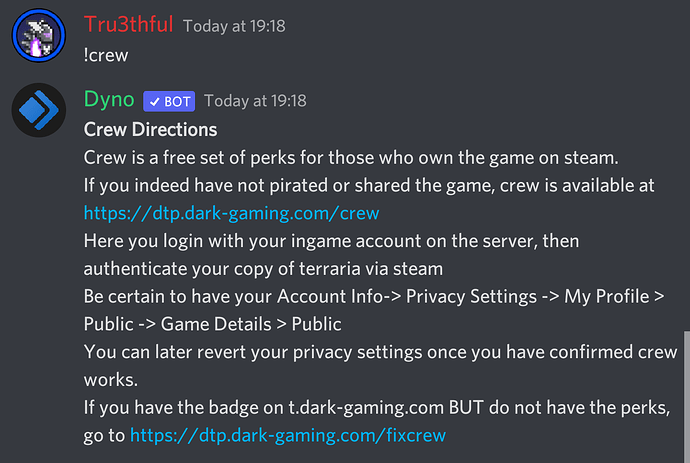 How im enter crew to get perms?
There were instructions provided in the image in my previous post, but if the image isn't loading for some reason, here they are in plain text:
Crew Directions
Crew is a free set of perks for those who own the game on steam.
If you indeed have not pirated or shared the game, crew is available at https://dtp.dark-gaming.com/crew
Here you login with your ingame account on the server, then authenticate your copy of terraria via steam
Be certain to have your Account Info-> Privacy Settings → My Profile > Public → Game Details > Public
You can later revert your privacy settings once you have confirmed crew works.
If you have the badge on t.dark-gaming.com BUT do not have the perks, go to https://dtp.dark-gaming.com/fixcrew
This topic was automatically closed 15 days after the last reply. New replies are no longer allowed.