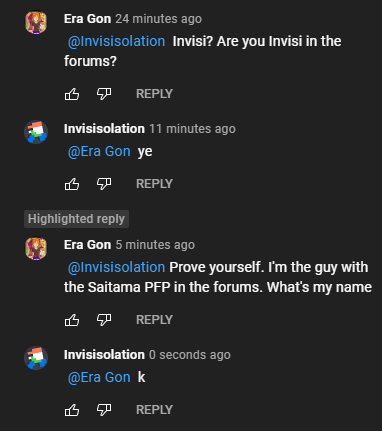 Oh god it is you WHAT THE HECK, HAHAHAHA!!!
What a legend!! I thought that account was a fake but… I didnt expect this!!
im not even famous in yt lmao who would try to impersonate me
Pretty much all of the people here are not really famous on youtube, and most use their online name that they use for almost everything on dg as their name.
I actually was searching any information about Dark Gaming Server but then i stumbled about a video implying that they griefed the server(in his dreams). Only to find some comments with lots of hate and dislikes.
And I saw Invisi in the replies. Thats da context.
Is it that one where someone used rockets to grief the items dimension
because i think thats exactly it lol
I couldn't watch the whole video because I saw your reply in a comment section.
(79) I destroy t.dark-gaming.com ( ≧Д≦)



- YouTube
This, but it's odd, I can't seem to find my "In your dreams" comment…
Either it was deleted or it's in some other video.
i have no words for how much i despise the title of this video…
What means the Д in the title? It is the russian D.