REMOVE THIS ENTIRE NOTICE WHEN YOU HAVE READ IT:
Mention where relevant:
Are you in Journey Mode?
What version of mobile are you using?
Have you tried connecting to t2.dark-gaming.com?
I'm not in journey mode except classic. I use vivo 6.0.1
T2.dark-gaming.com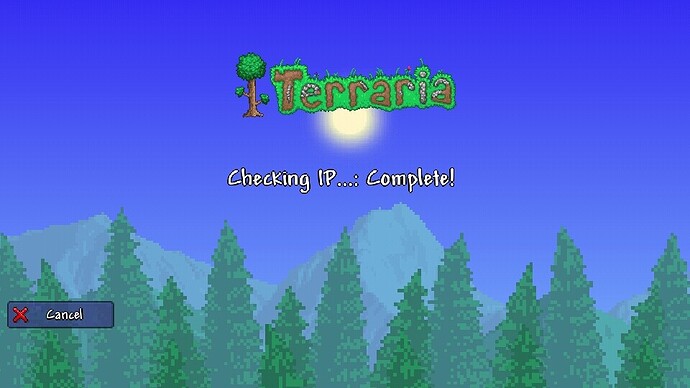 I meant the version of your Terraria
Have you tried port 7776 or 7779?
Looks like I stuck all these.
You originally put a single image saying that you weren't on the same version as the server, so I raise this question: is the fact that you were attempting to play via PC using a mobile emulator mean that the server saw you as a PC player running 1.4.0.5?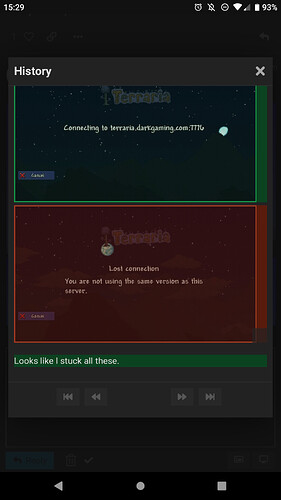 This shouldn't be relevant at all, though, your ban appeal has not been accepted and therefore you shouldn't be able to connect to the server at all.
To be honest I do not have a PC at home. I only use a regular mobile phone.
I try to login into the server and I get it. I think my ban appeal is accepted.
I don't have use pc at my home.
No, it was not, it was not given any label of any kind. Here's an image example with all three different labels that ban appeals can receive:

"Accepted" is the only one where you're allowed back into the server within the rules, including with no label. If a ban appeal has no label, it is at the time not accepted, denied, or invalid; it is still open.
Inspecting your ban appeal, here's how it is:

It does not have the "accepted" label.
Oh ok. Then I can't play anymore at this server right?
You shouldn't, unless you're actively trying to ban evade.
ok. Thanks for information. I appreaciate it.
Also I wanted to mention its t.dark-gaming.com, you missed a - between dark and gaming