Anyone have 1+ credits so I can give you my entire inventory for them?
I don't have inventory space, nor have I been remembering to vote a lot recently, but… I mean, I have 1.2 Credits as well as a seemingly glitchy RoD command item.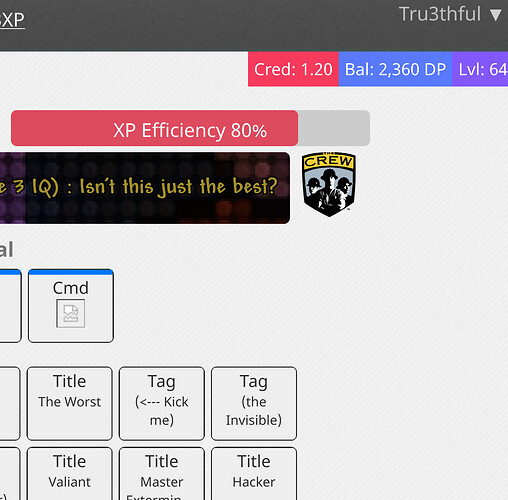 i do, but why u want to do this? (btw show inv)
Why do you need credits lol, are you getting a new custom title/tag?
Yes, so do you accept the offer?
I was saving up for my own lol, sorry
even the mod title?
(yikes probs no but dosnt cost anything to ask lmfao)
Also I noticed your moderator title is colored, so I was wondering how this was accomplished.
Turns out it's just a line of code: <span style="color: #FF6700">Moderator</span>
I wonder if this is reproducable
i think to work on terraria code would need to be [c/FFF000:test] or something
It's only in HTML format so that it's in color if you view it from a browser.
It needs to be in this format to be in color in-game. You can't craft anything in this format. To have a colored name or tag, you need the Cmds Color Name or Color Tag respectively.
I mean, this doesn't really do anything. You just inspected the page and fiddled around, but alrighty then.
hi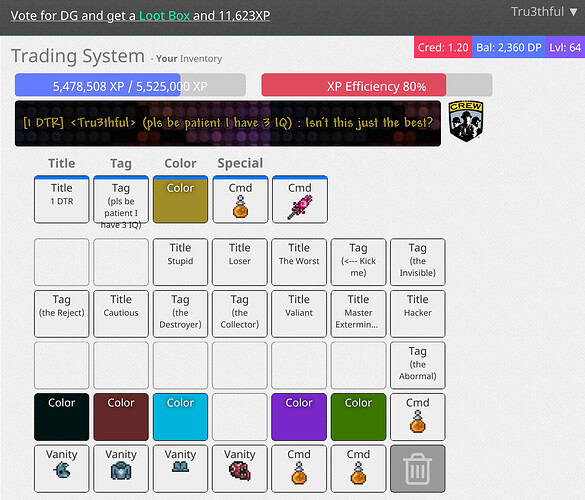 Edit: I uploaded this and then instantly got a phone call from an unknown number, was that you???
Yeah the HTML is just a representation of the real in-game, it wouldn't make any difference.
Wait so [c/FFF000: mado] wouldn't work?
That sounds kind of funny to have just that text as your actual title though.
I see you also have the Master Exterminator title
I found it funny that your (the Destroyer) and (the Collecter) tags were right next to each other lol
Yes, as you might've noticed through the clogged inventory, I do indeed collect lots of cosmetics.
The next inventory expansion at all (excluding special slots because a duplicate /buff equipped would do nothing) is 8000 DP.
No, it wouldn't unless you have. . .